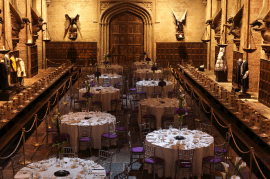 What goes into a good venue finding service?
Our free venue finding service gives you access to some of the best locations not only in the UK, but throughout Europe and elsewhere around the world too.
But just what goes into a good venue finding service? Here are some of the top ways in which we offer more than you'll find elsewhere.
1. What is it for?
We don't just match you with the nearest premises on our list – we find you a venue that's perfectly suited to your occasion, whether it's a corporate conference, training day or even a Christmas meal or party.
From exhibition centres to spa hotels and castles, we can match the formality and opulence of your surroundings to the tone of the day you are planning, so the message doesn't get confused.
2. Who is it for?
Our free venue finding service is one of the most scalable you will see anywhere, capable of accommodating everything from a face-to-face meeting between two people, up to massive events for 2,000 delegates.
3. How will you use it?
Making your event engaging for those who attend can take some new ideas, and we can help you to find a venue that will allow you to innovate.
It could be as simple as providing food and refreshments, or it could be something more complicated involving a high-speed Wi-Fi signal, social media engagement and so on – so have your hashtags and QR codes at the ready.
4. When is your event(s)?
We know how disastrous it can be when you get let down by another venue finding service – but we are here to help in this case, or with general enquiries, even at quite short notice.
Our list of venues can give you capacity for a one-off event, or for a series of dates, and we have a dedicated express service if you're close to deadline.
5. What else do you need?
There's no catch, and no commission to pay – the venue pays us a finder's fee, but they won't charge you extra to cover it.
What's the catch, there aren't any! there is no obligation at all, no finding fee, we receive a small commission from the Venue, but that's doesn't change the rates we get for you.
You're more than welcome to visit the venue beforehand, if you want, and if there's anything else you may need, please get in touch and ask us to find out if we will be able to help.