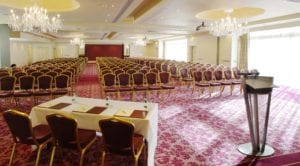 Business conferences can be some of the largest events on your company calendar, with the opportunity to meet with all of your main partners, competitors, suppliers, distributors, customers and investors all in one place. At their best, conferences create a space for a sharing of expertise and knowledge, allowing you to benefit from the experience of everyone in attendance, as well as a platform to advertise and sell your products and services, potentially to buyers who you have never reached before. However, all of this depends on a successful, smoothly run event and a good venue is the backdrop to that, with the right amount of space, any necessary presentation facilities, well-appointed bathrooms and catering capabilities.
Your exact needs will depend on what you are planning for your conference, which is why Absolute Venues' free conference venue search begins by filling out our enquiry form, which covers the basics like date, number of delegates and so on. Once these fundamentals are in place, we can work with you to make sure we are shortlisting the kind of venues you most want to gain access to and you can decide which, if any, you would like to visit in person before confirming your booking.
We have conference venues in London, Birmingham, Liverpool and Manchester, as well as locations throughout England, Scotland – including Edinburgh and Glasgow – and across the UK, Europe and beyond.
Our free conference venue finding service has been used countless times by companies of all sizes to find the perfect location for some of the biggest events in their history, and held either on their own doorstep or further afield to tap into new markets.
The potential to strongly establish your brand presence via a company conference, to network with other businesses in your industry, and to achieve sales growth is fantastic. Absolute Venues want to make sure nothing undermines that opportunity, with our help, your conference day facilities will cater for everything you and your delegates need, in surroundings that can be a little more inspiring and conducive to business networking than the typical workplace conference room or boardroom.