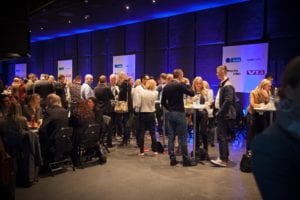 When planning a networking event, the last thing you want is for the limitations of your chosen venue to interfere with the chance to make some great new connections.
Absolute Venues can help you to find an ideal networking venue, with airy open spaces for interactions between individuals as part of a large group and break-out rooms for private or confidential discussions and business negotiations. Capacity is crucial for networking events, as you want all of those in attendance to be within easy reach of each other, without anyone feeling too enclosed or as though they cannot find some privacy when they need it.
Absolute Venues work with many of the biggest hotel brands, who can provide on-site conference facilities suitable for networking sessions, also allowing guests to use other areas within the hotel, such as the bar or even their own rooms, as ad hoc spaces for conversations away from the main group. Of course, there are likely to be times when you want the whole group to come together too and we can help you to find a networking venue with capacity for everyone to be in one place at the same time. This might require audience seating for one or more presentations, or it might be more suitable for your guests to stand while you address them from a stage or similar platform.
We can recommend networking venues with audiovisual facilities already in place, making it easy to get your voice heard by a crowd of any size – and our free venue finding service caters for groups ranging from two people to 2,000.
Location is another important factor in choosing a venue for a networking event and again we can advise on your requirements in this area, for example by shortlisting venues within easy reach of your nearest major city centre or business district. Alternatively, we can suggest locations outside of the city, but with good public transport or motorway links, and nearby hotel accommodation for guests who need to stay overnight.
By ensuring your networking event takes place at a venue that is easy to reach, you avoid shutting out anyone who might want to attend, meaning all of the most lucrative prospects in your business network or target market have ample opportunity to come and meet with your representatives.