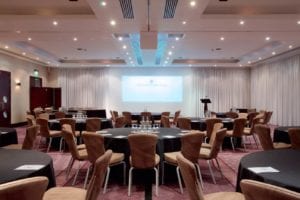 If your own business premises lack the space for the kind of seminars you would like to host, or you simply want a change of scenery or more inspiring surroundings, Absolute Venues can help. Our free seminar venue finding service can recommend suitable locations close to you – or further away if you prefer – based on criteria like the number of people you expect to attend and your preferred date for the event.
We appreciate that the final decision is likely to be based on less objective criteria too, which is why we will typically shortlist a number of potential venues, which you can then decide to visit in person or choose the one that appeals to you most.
Absolute Venues offer all of this free to the user, with our costs covered by the venues we recommend – these referral fees will not be added to the amount you are asked to pay to the venue for their services, either. Instead, by booking through Absolute Venues, you can often gain a discount on the venue's normal rate, in recognition of the repeat referrals we send their way, making it possible to host your seminars in more luxurious surroundings than your budget might otherwise allow.
We only recommend privately owned venues with professional management – including many of the biggest executive hotel brands – so you know your seminar room will be business appropriate and formally appointed unless you specifically choose more relaxed surroundings. Any extra facilities you need, for example, if you want to provide lunch during a lengthy seminar session, or light refreshments, can also be factored into Absolute Venues' free venue search on your behalf.
The result should be a day to remember, and when planning future seminars, you can either return to the same venue again or, if you want a change of scenery, start a new free seminar venue search with Absolute Venues and we will draw up a whole new shortlist of candidate locations for you.
Remember, there is no cost for using our services – we just receive a fee from the venue when you make a booking – so you can use us time and time again without eating into the budget for your future seminars.